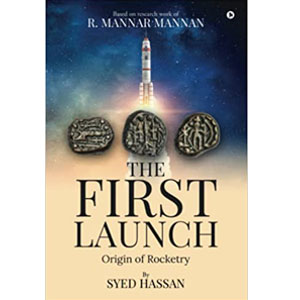 Description:
---
The First Launch book by Syed Hassan and Mannar Mannan
The book enables us to visualize the pinnacle of multiple historical events in rocket science and traces the origin of modern rocketry to India, its birthplace and cradle of multiple global innovations in the past and on track to rewrite the frontiers of innovation in future.
About the Author Syed Hassan:
Syed Hassan is a global technology leader who has worked in large corporations across many continents for more than 25 years.
Passionate about Physics and the latest in IT and space research, he is an expert and an acclaimed speaker on Artificial Intelligence and Industrial Revolution 4.0 in leading academic and industry forums.
With an educational background in Physics, Computer Science and Management, Hassan has brought in facets of rocket science and technology covering the entire spectrum from its origin to the latest trends.
MRP: ₹ 250
our discount price: ₹ 200
You can buy this book at lowest price from the publisher Payitru Padaippagam, for delivery within India contact +91-8925095553.
If you want this book to be delivered in overseas, please contact +91-7397019916
ஐயங்களுக்கு அழைக்க வேண்டிய எண்: +91-8925095553 (பயிற்று பதிப்பகம்)
குறிப்பு: அயல்நாடுகளில் உள்ளவர்கள் நூல்களைப் பெற பர்ப்பிள் புத்தக நிலையத்தைத் தொடர்பு கொள்ளவும். புலன எண்: +91-7397019916
Return to Mannar Mannan Books list.
Find more details about the Author Mannar Mannan here.
Back